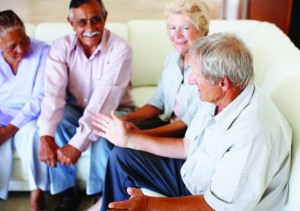 If you are caring for someone with memory loss or dementia, there is a range of information and support services to assist you. It is important that you look after your own health and well-being and take opportunities for respite. For information on using respite in the Illawarra Shoalhaven, please visit our sister website: www.rethinkrespite.com
The Illawarra Carelink and Respite Centre provides information and support to carers and links to respite services in the region. They also provide 24 hour emergency respite in times of carer stress and crisis.
Illawarra Carelink and Respite Centre: 1800 052 222
You may like to join a carer support support group (see below) or consider a range of care options including:
Carer Counselling
Alzheimer's Australia offers a FREE counselling service to partners, relatives or friends of a person diagnosed with dementia and for people who have early stage dementia. It is a confidential service where you are able to develop an ongoing relationship with a fully qualified counsellor. The counsellor understands the issues involved in facing a diagnosis of dementia and can be there for you at different stages during the journey. It can be a meeting in person, over the phone or via Skype.
Contact: 1800 100 500 (free call) and ask about counselling in Wollongong. A counsellor will call you back to make an appointment.
You can also contact the Carers NSW Talk it Over Carer Line: 1800 242 636
Carer Support Groups
Carer support groups are organised so that carers can connect with other carers and receive information and advice on a regular basis. They are run by a range of organisations in different areas of the Illawarra and Shoalhaven. You can download a Directory of Support Groups in the Illawarra and Shoalhaven regions or check the table below for details:
GROUP
VENUE
TIME
DATES
CONTACT DETAILS
Bay and Basin Carers Group
Bay and Basin Community Centre
1pm – 3pm
Meets on the last Thursday of each month
4443 3434
Carer's Café, Kiama
Joyce Wheatley Community Centre, Hindmarsh Park, Kiama
1-3pm
Second Friday of the month
4232 0475
Corrimal Dementia Carers Support Group
Bottlebrush Room, Corrimal Community Centre, Short Street, Corrimal
10am – 12.30pm
Second Wednesdays of the month
4229 5926
Greek Carers Support Group
Cringila Community Health Centre,
Cringila Multi Purpose Centre,
Lake Avenue, Cringila

10am - 12pm
Third Wednesday of the month
42216 790
Italian Dementia Carers Support Group
Illawarra Master Builders Club, 61 Church St, Wollongong
10am - 12pm
Fourth Wednesday of the month
42216789
Kiama Open Carer Support Group
IRT Harbourside Common Room, Bong Bong St, 30 Terralong St, Kiama
10am - 12pm
Third Thursday
4232 0475
Macedonian Carer Support Group
Port Kembla Senior Citizens Centre, Allan Street Port Kembla
10am - 12pm
Second Wednesday of the month
4275 2266 (head office)
Multicultural Dementia Carer Support Group
Location changes monthly, please call to confirm
10am - 12pm
Second Wednesday of the month
4276 4364
Multicultural Memory Loss Carer Support Group
Illawarra Yacht Club, 1 Northcliffe Drive, Warrawong
10am - 12.30pm
Third Tuesday of the month
4276 4364
Nowra Carers Support Group
39 Holloway Rd Nowra
10.30am – 12.30pm
Fourth Wednesday of the month
4421 0975
Portugese Carer Support group
South Coast Portuguese Association 129 Flagstaff Rd Warrawong
11am - 1pm
First Tuesday of the month
4274 3664
Serbian Speakers Carer Support Group
Church Hall, 82 Kenny Street Wollongong or alternate venue please call to confirm
10am - 12pm
First Monday of the month
4275 2266 (Macedonian Welfare Association)
Ulladulla Carers Support Group
Ulladulla Community Health Centre Princes Highway (or alternative venues)
12.30 - 3pm
Third Monday of the month
4455 5366
Warilla Dementia Carers Support Group
Warilla Bowling & Recreation Club, Jason Ave, Barrack Heights.
10am - 12pm
First Tuesday of the month
4297 1011 (Carunya)
Wollongong Dementia Carers Support Group Meeting
Illawarra Master Builders Club, Church St, Wollongong
10.30 - 12pm
Fourth Tuesday of the month
4297 1011 (Carunya)
Younger Onset Dementia Carers Support Group
Community Gateway Hub, Wollonong or Carunya, Warilla
10am - 12pm
First Thursday of every month
1300 657 473 (Kate Troy)
Younger Onset Dementia Cafe Group Wollongong
TBA
10am - 12pm
Fourth Tuesday of every month
1800100500 (Sandra Kay)
Younger Onset Dementia Support Group Milton
Coastal Indulgence Cafe, 107-109 Princes Highway, Milton
10am - 12pm
Third Wednesday of Month
0438 702418 (Sandra Kay)