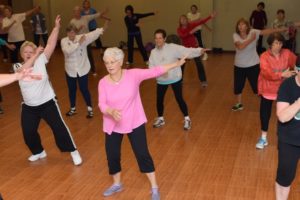 Social Dancing for People with Dementia
Rotary Gerringong are proud to sponsor four weeks of social dancing for people with dementia. The FREE dance sessions will run four four Fridays, from 27 October to 17 November, from 2 to 3.30pm at the Gerringong Anglican Church Hall. A qualified dance teacher will facilitate the sessions and afternoon tea is provided.
An ABC report described people with dementia benefiting from dance classes on Queensland's Sunshine Coast. Participants enjoyed the fun, social activity and benefited from the physical movement and brain stimulation.
To take part in the Gerringong classes, please contact Christa Wood on tel: 0416 202 678 or email: christa.wood@gmail.com